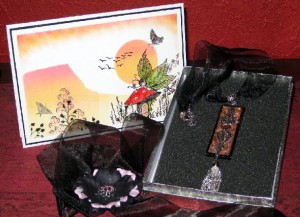 I was playing with my brayer again and made this fairy card for Grace. I had painted the fairy in green before I had found out that she has just been to a party dressed as the absinthe fairy (spooky!)
Inks:
Big and juicy mountain meadow, Black document ink
Card:
white, black, silk card
Stamps:
Stampin up pocket silhouettes, Fairy stamp (unknown), Rubber stamp tapestry clear set (butterflies),
Lavinia stamps
(birds)
Other:
stickles, H2Os and glitter pens to colour
I have also been playing with my melt pot too and made her a pendant using a memory frame, UTEE, and some old earrings.
Once the UTEE had melted I poured it into the frame and while it was still hot I stamped a swirly image into it. When cooled I then swished it with perfect pearls and a little stickles. The filigree metal on the front are pieces from an old pair of earrings and a gem. To distress the frame and little chain dangle I dabbed on some black alcohol ink.