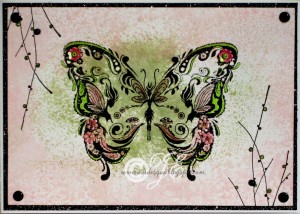 In the March 2012 issue of the Craft stamper magazine Riet van Zundert shows how to use your acrylic block to add colour to your card so I had a go with her technique for Ceara's birthday card.  You basically ink up your acrylic block then swipe away any areas you don't want colour on.  Then use your block like a stamp and press onto your card.  I stamped the pink colours first, then added the green  to the centre, then stamped the images normally and coloured them in.
Inks:  Distress inks Spun sugar and Bundled sage, Cosmic shimmer Angel mist, Memento Tuuxedo black
Card:  White, Black glitter card
Stamps:  Inkadinkado Mindscapes, Elusive images Easter grasses
Other:  Gelly roll glitter pen, Lime green stickles, black 1/2 pearls and nail heads, tiny flower sequins and seed beads
For a little something extra I made a steampunk bracelet.  It was a kit from John Lewis but I won't be buying any more as the quality is very poor.  The metal is very soft and is a strange colour that is neither silver nor gunmetal colour.  Instead of the large metal heart they had in the kit I added a dragonfly in it's place.  Just the addition of a few cogs apparently makes it steampunk….Hmmmm.