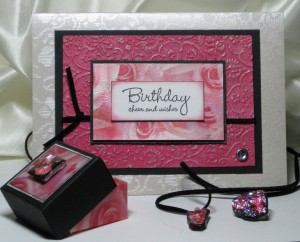 I made the card, faux dichroic glass jewellery and little box to match – all with pink and black as the theme.
The pink background on the card is made by running white card through a Cuttlebug with embossing folder Textile texture (thanks for the loan of the folder Heather), then spray with Cherry limeade glimmer mist, leave to dry then rub the raised surface with silver metallic rub on to give a silver accent to it. The pink roses layer behind the greeting is rose vellum on silver embossed card.
The jewellery is made following Sid's tutorial ,with sea washed glass from Portobello beach and I used the same method to alter a tiny mosaic tile (left over from doing up the kitchen years ago). I made the little box to match using the same rose vellum and black card. Thank you Ruth for showing me how to make the box – Ruth made me some lovely earrings fro my birthday and presented them to me in a sweet little box so I just had to find out how she had made it.
Inks: Brilliance Graphite black, Distress ink Worn lipstick
Card: white card, black card, rose vellum. silver embossed card, cotton white Broderie card
Stamps: Stampin up Cheers and wishes
Other: sea washed glass, UTEE, alcohol ink Pitch black, foil, silver flakes, black velvet cord, silver bail, brooch back, mini tile, gem brad, metallic rub on