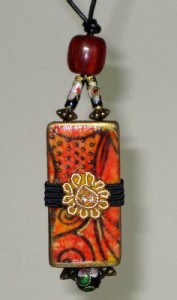 It is Tegan's birthday today so I made her a bamboo tile pendant. It is two bamboo tiles inked and stamped with a paper concertina inside with the Happy Birthday greeting.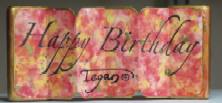 The closure is just a piece of elastic cord sewn together, which slides on and off, with an embellishment to hide the join. The leather thong has sliding knots so she can adjust it to the perfect size. It also means it can be dismantled easily if she wants to use the component parts for something else.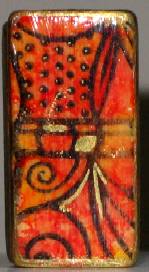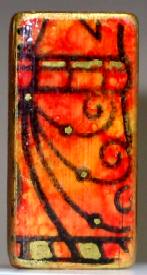 Inks: alcohol inks red pepper and yellow, gold accent pen and Krylon pilot pen, black Stazon
Stamp: parts off Michael Strong's Cloisonné vase
Other: black Cloisonné beads, red bead and gold coloured spacer beads, black leather thong, black elastic cord, gold embellishment, mod podge to seal.