We all had a fabulous weekend, despite all the bad weather, when our great friends came up for a holiday.
Tegan (age 11) and Connell (age 9) made some wonderful tags, bottle caps and scrapbooks.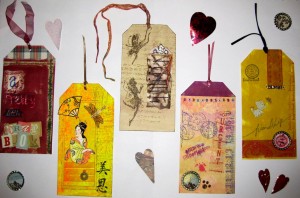 Tegan's work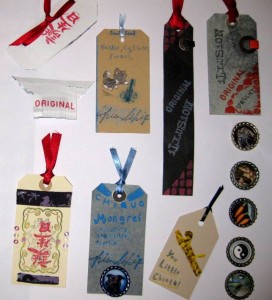 Connell's work
Inks: Distress inks in a variety of colours, black document ink, Brilliance dew drop inks,
Card: white card, luggage tags, Cosmo cricket tag book, black card, tartan paper
Stamps: Stampin up friendship, Non sequitur oriental, The artistic stamper Ephemera, Paper artsy, Dovecraft fantasy fairies.
Other: Bottle caps, eyelets, stickles, ribbon, images from magazines, washers, oriental coin, and lots of imagination and creativity.