Happy New Year!
I wish you all the very best for this coming year and I would like to thank you for all your comments you have been kind enough to leave over the past year. I get inspiration from visiting other crafter's blogs so I hope in sharing my crafty work (and my mistakes) that my blog gives some inspiration and tips to others too.
This is the my first blog entry of 2010. It is soooo cold just now and my craft room is the coldest room in the house so I haven't been doing much in it recently.
Here are my 3 ATCs for the ukstampers swap – this month's theme is black and white with a twist: the twist being that we have to make a tag too. Now I have just kept to the black and white theme for my tag and there is also a floral thing going on in them all too (not intentional at all!). The doll ATC was inspired by Gail Milburn's article in the Craft stamper mag Feb 2010 issue.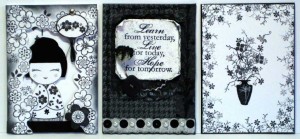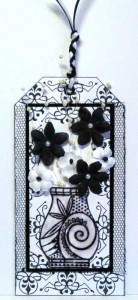 Inks: Black document ink, Versacolor white pigment ink, Distress ink black soot
Card: White card, black textured card, piece of black textured paper (from inside of chocolate box)
Stamps: Hero arts four dolls, Stampin up sense of time, The artistic stamper hound's tooth, Tapestry stamps Yummy garden (plus others), Clarity stamps corner, Michael Strong Cloisonné vase
Other: brad, square button, paper rose, blossoms, pearls, black sequins, lace, crackle glaze, ribbon, black mesh, sparkle pens