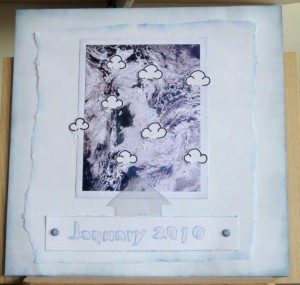 Yes I know it is anther poor photograph – it looks much nicer in real life (honest!)
I have put this layout together to conform to two of the challenges: to a recipe that must include a brad, arrow and some doodling, and -Cut it out which states that you must cut something out more than once.
I doodled the clouds and cut them out, there are two brads and a clear arrow (sponges lightly with white and blue but you can't tell from this photo).