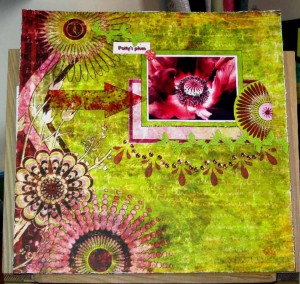 For this challenge you had to make anything you like but you had to use this sketch below. You get bonus points if you made a layout.
I have used BoBunny paper, Circle Circle Dot Dot template, gems, acetate arrow and some butterfly trim. My photograph is of my Oriental poppies in the back garden from last year (I was trying out the macro setting on my camera).
I have squished the sketch so it is all at the top right hand side of my layout.