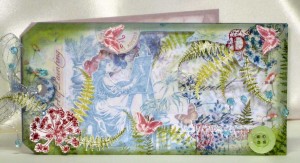 For those of you who read the Craft Stamper mag you will recognise this immediately.  I have used Helen Chilten's article in the Craft stamper Nov. 2011 issue.   I did vary a  few of the stamps and as I didn't have pearls I used little glass beads instead.
The top tag has an image of a woman painting and a caption up the left side saying 'the art of painting' which is appropriate for my mum as she is a very good artist.
You maybe can't tell from my photo but the top tag has a portion cut away and the tag is then layered onto another with 3D pads.  Mine is not quite as 3D as Helen's. I added another shabby tag with ribbon so it would still open like a greetings card.
Card:  Crafty individuals Tags Landscape and Shabby
Inks:  Distress inks Faded jeans, Victorian velvet, Shabby shutters, Aged mahogany, Peeled paint, Milled lavender and Stormy sky
Stamps:  Crafty individuals 207, monogram D (unknown), The Artistic Stamper Ephemera
Other:  wire, blue beads, button, ribbon