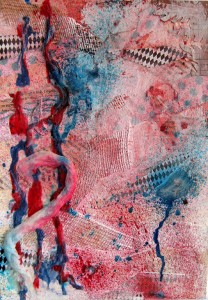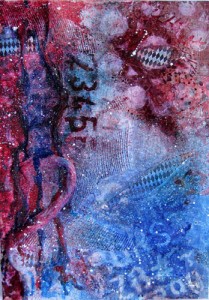 This is the next painting that is being passed around – a little earlier than it should just because we had them ready.  Elaine did the first layer with paper scraps, Pauline added scrunched glued napkins and scraps of gauze.  I added a spray of aqua and red which you see in the first photo (as I forgot to take a photo before I started) then I added more sprays through stencils and mesh then splattered with white acrylic paint.
Sprays:  Dylusions ink Cyan and Postbox red, Brusho Crimson, Cosnic shimmer mist and Lava.  (sprayed water through stencil then lifted the colour out for a ghost effect).
Acrylic paint:  watered down Titanium white sprayed with toothbrush.
Other:  Uni paint marker to splatter, alphabet and number, circle stencils, mesh.