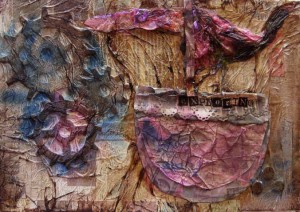 I received a few of the Pass the Paining canvases the other day that a group of us are doing from the crop so here is Pam's canvas so far.
Pam did layer 1: mixed paper collage, book pages, paint cards, brown paper, scrapbook paper and paper towel.
Lou did layer 2: PVA, chipboard, cogs, dots, brown tissue paper.
Pauline did layer 3: distress inks, paper boat and sail using paper and napkins.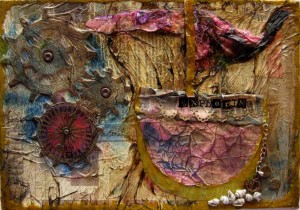 This is my addition layer 4: stamped acetate then coloured underneath using alcohol inks, peel-off anchor stuck to grunge board and added chain, little shells, Crackle paint tarnished brass, Tim Holtz brads and game spinner, wax rub-on in copper and gold to highlight the cogs.