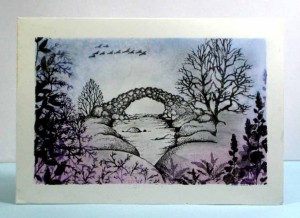 I have been playing with my brayer again today as I need the practice. As you can see I have used a grubby old piece of card for this one and made a few mistakes too. Maybe I really shouldn't show you my mistakes but I hope you won't make the same ones as I did. The tree on the right is too big and not well positioned or stamped well. Some of the foreground stamped images look squished – that is because I put too much pressure on the acrylic stamp and the ink pad was quite juicy. I thought I would give it a light spray with water to give a nice effect in the sky but only sprayed it after I had taken the masking tape off so the colour bled out. The left hand side looks too black. The flock of birds are positioned too high. Having said all of that I still quite like it even though it was a different flock of birds stamp that I had intended to use.  I will try and save it somehow.
Inks: Versafine onyx black and Imperial purple, Stampin up Pale plum and Bashful blue, Memento London fog.
Card: white silk card
Stamps: Lavinia stamps bridge , flowers and foliage, Stampin up trees, Encaustic art tree, birds stamp from an Oriental collection
Other: spritz of water, glitter pen just over the stream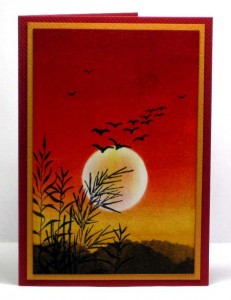 This design I found on you tube by stampwithtami – I wanted to see how other people used their brayer so I had a go at this one.
When I went straight down with the yellow colour on my brayer my sun mask shape rolled down too to give a very slight moon underneath but I think I covered it well enough. The red looked a bit stripy so I turned it to landscape and rolled it from the small edge inwards rather than down from the top in portrait orientation. This looked a lot smoother.
Inks: Versafine onyx black, Stampin up More mustard, Adirondack Expresso and Red pepper
Card: White card, mustard card, red card
Stamps: Lavinia foliage and birds (found it!) , Judikins bamboo,
Other: punched hole mask