At the Edinburgh scrapper's crop on Saturday I managed to finish my scraplift page for our Scraplift Challenge 2010.  Each month someone from the group chooses a scrap page for the group to scraplift from.
Pauline chose our first one: 'End-of-a-perfect-day' by gwyneth123.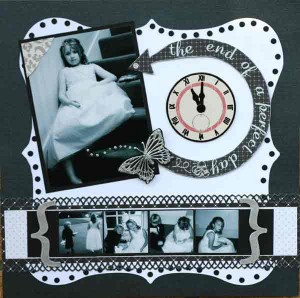 and here is my interpretation: 'Dig, dig, dig' – the journalling says – 'Gardening:  A leisure time activity involving a lot of  time and little leisure.'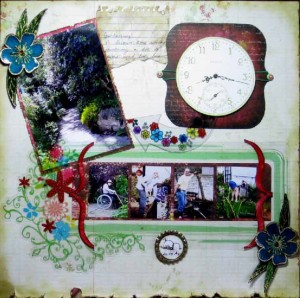 Inks:  Colorbox fluid chalk Lime pastel, Memento Rhubarb stalk, Distress inks:  Frayed burlap, antique linen and peeled paint.
Card:  papers from Bo Bunny My darling collection and Lily bee French Couture
Stamps:  Stampin up Sense of time (clock), Hero arts Four dolls (flowers on the arrow)
Other:  embellishments left over from other projects, bottle cap, Green acetate frame from Fancy pants, acetate arrow, brads, elastic band, note paper, tiny watch pieces