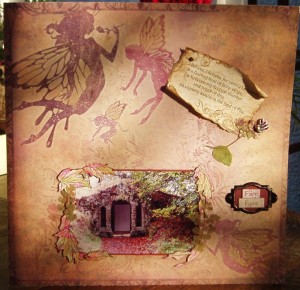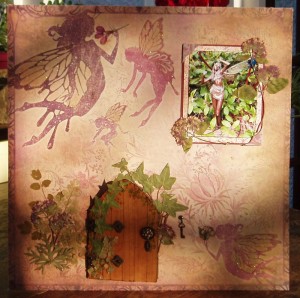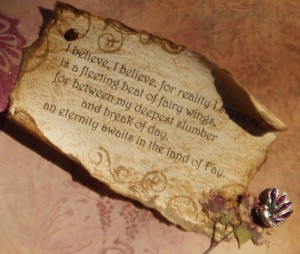 Here is my double layout which I finally managed to take photos of – my camera has gone kaput and I had to borrow my husband's which is a newer model and works slightly differently.
The first photo was taken in a beautiful forest at Gosford Estate. and The second photo is of
Maranna
, my lost wax bronze sculpture. She now lives in the conservatory after a frisky fox knocked her over and she suffered a broken shoulder and wrist (all better now though).The verses are taken from the certificate that authenticates the sculpture and the magic fairy coin has her limited edition number on the back so is kept hidden behind the fairy door.
Inks: Tim Holtz distress inks antique linen and frayed burlap, alcohol ink black
Stamps: house mouse fall commuters, Dovecraft fantasy emblems, tapestry stamps and Lavinia stamps (small leaves on the door)
Card: DCWV Once upon a time stack, BitsNPieces woodgrain paper
Other: dragonfly charm, bookplate, key, dried leaves and flowers from my garden, button, Tim Holtz grunge board elements, distress embossing powder