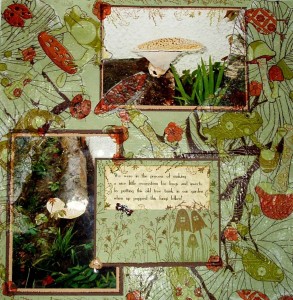 So I have finally managed a scrapbook page using the napkin method demoed by Pam (thanks Pam) at the Edinburgh scrappers crop ages ago. Even though I used mat mod podge it is still rather glossy, hence the bright patches in this picture.
Inks: Adirondack woodlands, Archival ink coffee
Stamps: Stampin up pocket silhouettes, Tracy Dutton mushroom stamps from Lavinia stamps
Card stock: stampin up; creamy caramel, chocolate chip, sage shadow
Charms: dragonfly from Crafts by Carolyn, mushroom from ebay
Materials: napkin from a napkin swap, mat mod podge
Take a 3 ply napkin and peel the layer with the image on it from the other 2 layers. Roughly cut out the patterned bits you wish to use and paste mod podge on the areas of your page where you want to put the napkin. Gently lay the napkin on the mod podge and squidge it around to create a little texture. leave it to dry and paste a little more mod podge over it. It goes semi-transparent so you can still see what lies beneath it.