My original canvas has now had another 4 layers put on it.
Rosie added layer 2: string and tissue applied with Matte gel.
Pam layer 3 ?
Lou did layer 4: added the mask and chandelier.
Pauline did layer 5:  changed the colour of the mask from bright blue using napkins, added distress inks, glitter glue and crackle paint.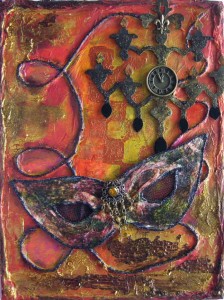 I added a final layer 6: black glitter on the mask edges and string, tucked black mesh behind the eye holes, black gel pen, distress stickles, bits from old jewellery, charms.  I might add some words into the string loops when I think of something.
I love this Pass the Painting  collaboration!