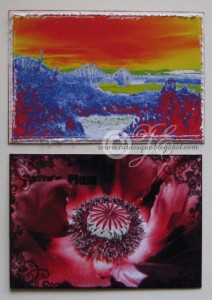 My ATCs for this months CBC swap are altered via my PC rather than stamping so I made use of a couple of great tutorials I found over on Jessica Prague's blog. I hardly ever do digital stuff so I never remember how I got the results. I press keys and add layers then every now and again I get some nice results that I can never emulate.
Harry took the photo of the Forth railway bridge and I added the grunge frame from Jessica's site and altered the RGB balance. The edges were further distressed physically.
The poppy photo is a result of me playing around with the macro facility on my camera along with Jessica's tutorial on how to get the text to look like it is behind a petal. This one has a small border and corners added digitally too.