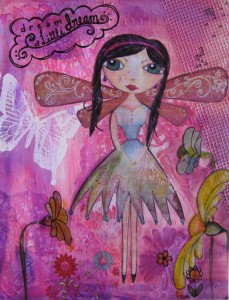 This canvas is Rosie's Pass the Painting as she did layer 1: texture with reinforcement rings, Martha Stewart punch and adhesive webbing.
Pam did layer 2: more texture with smooth gesso and gesso through sequin waste.
Lou did layer 3:  Doilies, watercolour paint (raspberry and brick red), embossed butterfly.
Pauline did layer 4: petite doll and flower images, writing Dream a little dream, ranger inks and Faber Castell pens.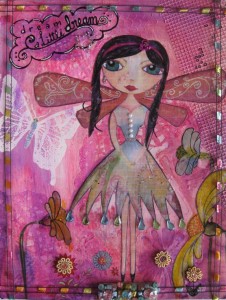 My addition layer 5:  bling – gems, pearls, stickles, white pen to highlight, old jewellery bits,  and ribbon.