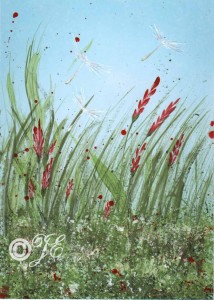 So my mum issued me with a challenge the other day: make a semi-abstract using 3 colours of inks or paints with no zentangle, no stamps and the theme is summer.
This is what I cam up with.  Summer to me is sitting in the garden watching the bugs and seeds and all the other wee dust particles floating about in the breeze.  Did I cheat adding white?  My 3 colours are blue, green and red (using white for highlights and the dandelions seeds).
Inks:  Distress ink Tumbled glass
Paint:  Acrylic paint Moss and Poppy, Antique white
Card:  silk card
Other:  Marvy le Plume pens in green and red, glitter pen (tiny amount in the fluffy part of the seed heads)
I brayered the background all over using the Tumbled glass ink (which in real life looks almost aqua) leaving a central glow.  I loosely painted in grassy leaves and thicker leaves, the stippled over the base to look a bit like moss in the grass using the acrylic paints.  Added some flowers then splattered some red and green.  Lastly I added the fluffy seed heads adding a little glitter pen to the fluffy bits.
It is just the right size to put into an A5 aperture card but is it semi-abstract? not sure.