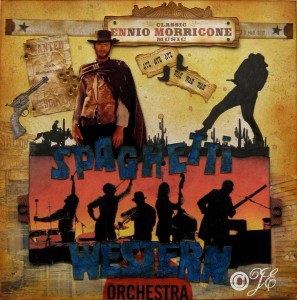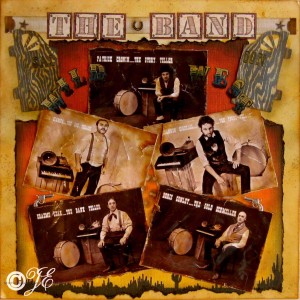 this photo looks very yellow but is is in fact the same brown as the one above
I just LOVE the music to the Spaghetti westerns by Ennio Morricone and when I saw the Spaghetti Western Orchestra (SWO) on the Jules Holland's show I knew I just had to see them live if they ever came to Edinburgh.  Well they did and I wasn't disappointed – they were fantastic!
On the first page you can pull the tabs at the side to reveal the tickets for the show and a newspaper clipping.
As I don't tend to take photographs of the actual concert I used the official photographs from their website (if you scroll down in their website you can watch a couple of clips) and traced the shooting cowboy silhouette from the CD cover.
I did try to do some image transfers from photos I took of a Wild West street Edinburgh but they didn't work that well but it didn't really matter as most of the images were going to be covered up.  In real life these pages look a nice warm brown colour but try as I might I could not get my photographs to look the same.
Inks:  Distress inks Brushed corduroy, Vintage photo, Wild honey, Spiced marmalade, Rusty hinge, Black soot, Fired brick, and Frayed burlap, Memento Tuxedo black, Adirondack Denim, Versafine archival Vintage Sepia, Dylusions Worn leather spray mixed with Distress Pumice stone re-inker (diluted)
Card:  The back pages from a scrapbook paper pad, yellow Stampin up textured card, glossy photo paper, Heritage paper alphabet and header strip, orange vellum, scraps of ivory card and leather look brown card,
Stamps:  Waltzing mouse stamps: Way out west and Back in the saddle, Tim Holtz Wild west and Urban tapestry, Oxford impressions Steampunk
Other:  gun charms, horseshoe charms, image transfer of own photos of saloon, Distress stickles Vintage photo and Clear rock candy, Diamond glaze, saloon die cuts, mini brads,