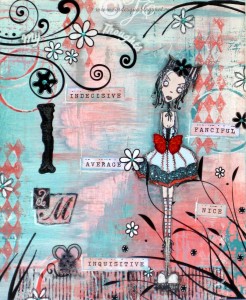 I really like these colours together and although I made a few mistakes making this art journal page I am actually quite happy with it.  I tried using white rub-on words for 'my thoughts' but they didn't stand out too well so I went over them with a white pen which made it worse so next I tried smudging a little charcoal pencil around the words.  It worked ok but not that great.  For week 29 of the ukstampers challenge the prompts is; You (as in me):
describe yourself in 5 words
use some stickers or rub-ons
include your fingerprint on your page
Do you know just how difficult it is to think of just 5 words to describe yourself?  These were the 5 words I came up with that more or less describes me although I am sure some people may disagree but these are my thoughts, about me, and no-one else's.
Indecisive – I take such a long time to make decisions and I am always worried that I have made the wrong choice.
Average – I am pretty average at everything – I have been described before as a Jack of all trades, master of none.
Fanciful – whimsical? would love for fairies and ghosts to be real, love fairy tales
Nice – I am a nice person, kind, generous and friendly
Inquisitive – I love learning new things about everything and I am always asking questions (these days I tend to forget the answers!)
Inks/paint: Acrylic paints: turquoise, rust, white, black, and silver, Inks: Stazon Jet black, Distress inks Tumbled glass and Spun sugar
Card:  water colour card, scrap of silver and white patterned paper
Stamps: Tim Holtz Chronicles 'i' and Mini muse, Stampin up Sanded background, Stampotique Gooseneck, English stamp Co. Oriental set 3 (grass), Paperbag studios Scrap journal, Aspects of design Daisy flutters (flower), small alphabet stamps unknown
Other:  BoBunny Whimsy rub-ons, Cosmo cricket rub-ons, Stickles Aqua, shiny butterfly sticker unknown, charcoal pencil and coloured pens
The mouse is my fingerprint.